Jetpack by WordPress.com is a super cool plugin that offers many services for your self-hosted WordPress site including publicize, sharing, stats and many more.
It has publicize module that offers integration with and automatic posting to your favorite social networks including Twitter, Facebook, Google+, Tumblr, Path, and LinkedIn. Many users complaint for failure in automatic posting to popular social networks. So here we are presenting some general solutions to deal with this kind of Jetpack Publicize Not Working Problems.
Solution 1: Take note, jetpack don't publicize on post update
Once you've published a post, you can't update it and re-publicize it, even if the post was never publicized in the first place. It's only when you first publish the post that it can be publicized.
Solution 2: Instead of publishing privately, you should save new post as a draft
A few users used to publish post as private at first and hope that it will automatically post to their social networks whenever they will publish the post later. If you are not publishing the post at that moment, save that as a draft.
Solution 3: Disconnect and reconnect again to wordpress.com
You may try to fix jetpack publicize not working by going to the Jetpack menu in your dashboard and disconnecting/reconnecting to wordpress.com. If you have changed your WordPress website URL, you must have to do that to work publicize module correctly. It's most common solution that works.
Solution 4: Delete existing connections and re-establish them
Go to your jetpack sharing setting 'http://yourdomain.com/wp-admin/options-general.php?page=sharing'. Delete existing connections you may have and recreate them. Publish a post and check if jetpeck publicize is working?
Solution 5: Check your publicize setting before publishing post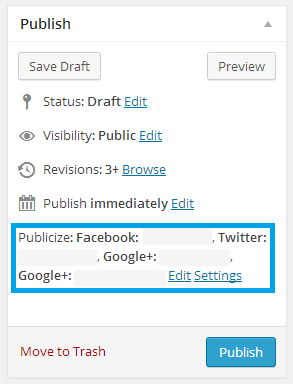 It's a good idea to check publicize setting under your post by clicking on 'Edit' button, if they are there and valid. You can also play with options if you need to control where the post should/shouldn't be publish.
Solution 6: Make sure you only use one plugin to manage Open Graph tags
A general reason to complaint about jetpack publicize not working is existence of duplicate set of Open Graph meta tags. Some themes and plugins (like Yoast's SEO plugin) also manage Open Graph meta tags for you. In this case you have two options to let publicize work:
Option 1: Properly configure the Social meta module in your theme/plugin.
Deactivate Jetpack's Open Graph meta tag generation, to avoid duplicate tags via adding the following code to your theme's functions.php file or to your plugin:
Deactivate Jetpack's Open Graph Meta Tag Generator
add_filter

(

'jetpack_enable_open_graph'

,

'__return_false'

)

;
Option 2: Don't configure the Social meta module in your theme/plugin.
Use this plugin (https://wordpress.org/plugins/always-use-jetpack-open-graph/) to force Jetpack to output it's tags even if the other plugin/theme is active but not configured.
Either one of the options should fix the errors regarding jetpack publicize not working.
Let me know if any of the solutions works for you or you are using another solution to solve jetpack publicize not working error.