Site ownership verification is an important step to validate the relationship with you, your website and Google. This verification is must when you want to utilise and take advantage of the features provided by Google.
There are many examples when you will need to verify your domain or the site ownership. To submit the sitemap or to know crawl errors are few examples. There is also especially need to verify site ownership when your website seeks user consent to access their Google account.
What if Site Ownership is Unverified
If you require performing some actions in a user's Google account then the user must have to sign in first to the account. If Google doesn't know who are you or the website, the user will be presented unverified app screen prior to the consent screen. You can also consult the article "This app isn't verified" to know about this concent and the solution in details.
It might also happen that site ownership has been verified with your another Google account. Or you just want to add additional owner or completely change the owner. In the guide, I'm going to tell you how can you verify your domain or the website ownership with Google as well as dealing with those situations described.
Verify Site Ownership with Google
First of all, sign in to your Google Search Console. Every website or app is called a property there. So if you haven't your website listed there then add that one as property. Google will present you few methods to verify the site. You can pick whatever suits you and process the verification.
If you have already added the property/site but didn't verify yet then you can verify site ownership through Manage Property > Verify this property menu. Further,  there are the following seven verification methods available:
HTML file upload
Domain name provider
HTML tag
Google Analytics tracking code
Google Sites
Blogger
Google Tag Manager container snippet
How to Modify Site Ownership
If you just need to add an additional owner to a property then it's easy too. First, click on the name or URL of the property. You will see Search Console page for that particular property. Select Users and Property Owners link from gear icon at top right.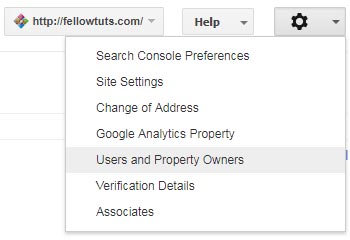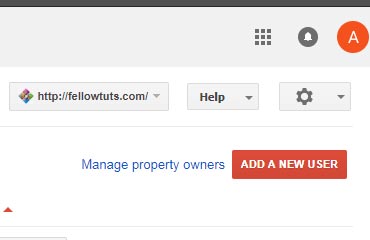 The next screen shows users and their permissions associated with that property. However, note that you can add a user here but not the additional property owner. You need to click "Manage property owners" link to add the owner for site ownership verification purpose.
At the next page, you need to click Add an owner button at the bottom left. Further, provide the Gmail address of the person to add as owner. You can also remove existing owner by clicking the "Unverify" link right to the concerned email address.
Site Ownership when Existing Owner is Lost
In that case, you need to take the following two steps first:
Add the domain as a property in your Google Search Console
Verify your ownership using either of given methods
Once your site ownership is verified, you can see all existing owners and users in the console. You can then remove either person and their verification token from the site/domain as well. Verification token is like the HTML file uploaded by that owner to the site.
These are the steps to verify your domain or site ownership with Google. It's important when you want to let your website appear prominently in Google search results. Also, site ownership verification creates trust in your users as Google knows who you are.
Do you have any question about Google and your website? Comment below and let us try our best to reply you. Hope you verify site ownership with Google flawlessly now.